Hi, I'm Steve Bretel. Let me turn your photographs into a stunning and unique watercolour pet portrait you'll cherish forever.
'Steve's work is just out of this world… Every single feature is outstanding. I could not believe how life-like it was.' (Kerry Mowatt, about 'Roxy')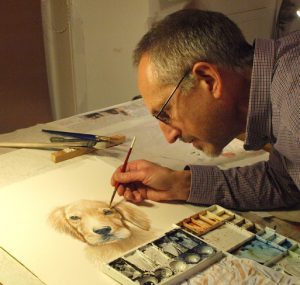 I'm a qualified and skilled professional artist based in Fife, Scotland. Using watercolour I'll not only create an accurate likeness of your pet dog, cat or other animal, its true spirit will be captured in paint – see my work. Not just a mere copy of a photograph, but a highly-crafted unique work of art. Check out the video, above or – see how they're made. There's nothing quite like the thrill of receiving a real painting you can actually hold, and see every brushstroke I've made – so different from the screen-based images we're all now used to. My paintings make excellent, original gifts and are a fabulous way to remember a cherished companion. Although these are pet portraits painted in Scotland, no matter where you are in the world it's easy to get a unique watercolour artwork sent straight to your door. Just get in touch and send your photos, we can then talk about what you require – there's no obligation to book. When you decide to go ahead:

Follow the steps to booking and pay the deposit.

On approval of the portrait, pay the balance.

Receive your painting and enjoy for years to come!
Go to the Shop and start its journey!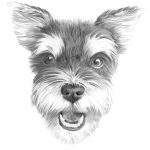 …and here's something else! Once you've had the portrait painted, you can then order a unique set of greetings cards – great for showcasing your pet to family and friends at Christmas and birthdays. Go to the Shop for details. Gift Vouchers also available. Speak with you soon!
I also paint landscapes, seascapes and wildlife.